Biometric Time and Attendance System
The accurate and efficient solution to registration, time management and attendance.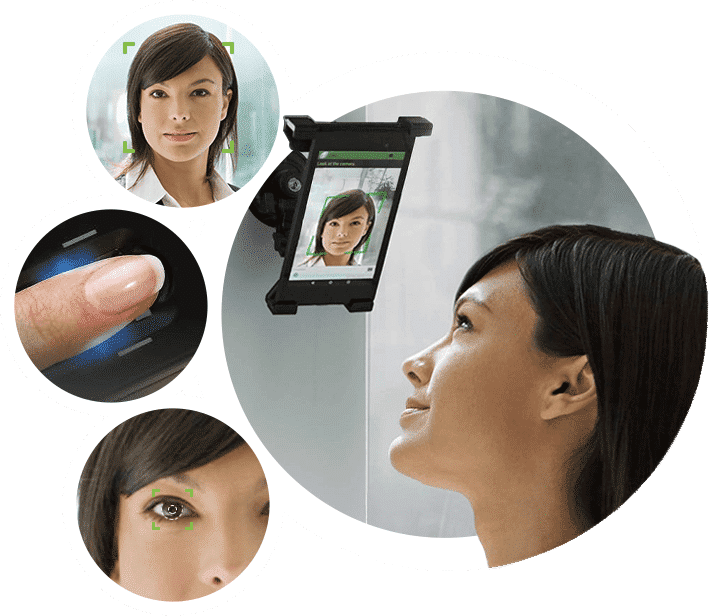 The NCheck Bio Attendance system uses biometric identification of face, fingerprint and iris scanning to efficiently monitor, manage and register attendance.
Simple to use and easy to integrate, the NCheck Bio Attendance is a turnkey solution that is designed for everyday efficiency. By scanning either the face, fingerprint or iris, the bio attendance system quickly and accurately monitors attendance. The Bio Attendance system also prevents the fraudulent or incorrect attendance recording associated with other attendance systems such as timecards, fobs or registers.
The benefits of the NCheck Biometric Attendance System
For the institution
Cost Effective - No ID cards, badges or other equipment is needed for the system users, they just use biometrics.
High accuracy and security - Identification based on multi modal biometrics allows achieving very high accuracy and is a reliable fraud prevention.
No "buddy punching" - Nobody can do a fake check-in or check-out in favor of another employee / user / attendee.
Useful integrations - NCheck provides flexible data exporting to a range of payroll systems
Increase the efficiency of attendance monitoring - The use of passive recognition and identification using surveillance cameras enables large work forces to be monitored with ease
For the user
Easy to Use - Never worry about a lost or forgotten time card or fob
Accurate - Ensure your attendance is accurately monitored
Anytime, Anywhere - Log your attendance wherever you are using a personal smart phone
Contact less attendance - Multi-modality scanning offers a more hygienic solution to attendance monitoring
Off-line attendance - Never worry about missed wages in remote areas where internet connectivity is a challenge
How does the NCheck Bio Attendance System work?
Not just your average fingerprint scanner
Many institutions will have experimented with fingerprint time clocks in the past, without much success. Whether it be the software failing to identify users consistently, or the expensive hardware limiting the scalability of the systems, it is easy to understand why these systems were unpopular.
NCheck is different
Quite simply, NCheck offers the most accurate, yet simple to use time clock software on the market
No more expensive, bespoke hardware* Your staff can use mobile phones, laptops or tablets to mark attendance
Award Winning Accuracy The system is powered by class-leading algorithms developed by Neurotechnology
Flexible around your requirements
*For fingerprint or iris identification, the system requires an external fingerprint reader or iris scanner, both of which can be purchased from www.biometricsupply.com
Powerful features
Unique features of our product take time and attendance software to the next level.
Applications and Industries
Our biometric time attendance system can be successfully used by various businesses and institutions.
Cloud
Subscription price depends on employee count
Free subscription supports up to 5 users
Support NCheck Standatd and Lite client apps
No need to worry about server installation and no maintenance needed.
On-premise
Need a PC to install server software
No limitation on employee count
Support NCheck Standard and Lite client apps
Customer has the freedom to configure the server as they wish
Select a PC or a device meeting minimum requirements
Make sure that the internet connectivity is available. Trial license connects to our licensing server to activate and validate the trial license.
Note: If your trial is not activated in above conditions, you can request trial license code from our
support email.
You can upgrade your trial usage to production by purchasing a license and activate it with License Manager.
Biometric attendance system vs
other attendance systems
Why NCheck Bio Attendance?

NCheck Bio Attendance is a ready-to-use biometric time clock software with 3 different modalities – face, finger, and iris. The product was released in 2012 by Neurotechnology, a company with almost 30 years of experience in the fields of artificial intelligence and biometrics. That is why our algorithms are among the best in the market. All the modalities can be used alone or combined to get extremely high accuracy.
For those willing to prevent cheating on the system, we offer liveness detection. It validates that a real person performs a check-in or check-out. Our biometric time and attendance software can be successfully applied in any business or project that requires attendance management, access control, or working time, overtime and holiday time calculation. Customers really like the easy installation of the system and customizable comprehensive reports. NCheck time attendance system suits both people working in the same location and premises and those working out of office – employees who work remotely, have business trips, visit customers, or travel to exhibitions and conferences, also builders or field workers by tracking their location.
Moreover, the NCheck biometric attendance software can detect and recognize more than one person in the picture, which simplifies and speeds up the registration process. For projects where people do not interact with the system, we offer a biometric identification solution to identify them in real-time from the video stream, without any need to stop and wait for the camera to take a picture. For customers having specific needs and requirements, we offer a product customization service. Just contact us, shortly describe your project and we will do our best to adjust our biometric time and attendance system to your needs.
Looks like NCheck Bio Attendance is a suitable solution for you? Try it for free!
Benefits of NCheck Bio Attendance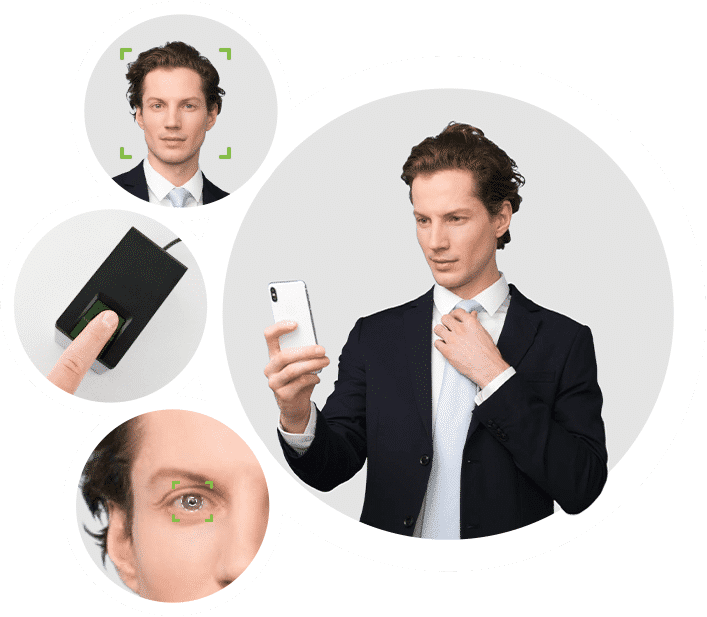 Multiple modalities - you can choose the modality depending on your operational needs, and employee's check-in and check-out process. It does not bind with a single Biometric. If one modality fails to identify, or for any other reason does not recognize, the other modality helps the user to check-in or out at the location without any problem.
Access via mobile platforms - NCheck allows access via smartphone platforms (Windows, Android Mobile, iOS, etc). Unlike fingerprints, human faces are the only biometric modalities that do not require any special hardware. Any Smartphone which has a built-in camera can perform face verification. The compatibility with mobile devices makes NCheck biometric attendance software ever more convenient.
Greater level of accuracy - multi-biometric attendance system provides higher accuracy in the decision making by combining more than one trait from different sensors. In this way, it also creates a highly robust biometric identification system.
Enhanced security - by combining more than one modality NCheck makes It is difficult to spoof the multi-modal biometric attendance system for attackers. This is excellent for organizations that require enhanced levels of access security in certain areas.
NCheck bio attendance can revolutionize your employee attendance software for its features, very easy to use and update and to teach to employees. It needs a little improvement on the manual, color on the interface and needs more customizable menus when programming attendance.

Ncheck Biometric Time & attendance solution is excellent to support on windows & android both platforms. Single solution for all biometric based needs. Need to optimize on the cost part as per required biometric for T&A.

Quite good software in terms of biometrics attendance. We tried different attendance terminal for our attendance purpose but most of those are not working properly. Sometimes does not recognize ur fingerprints properly. So we decided to try other vendor.

We are using this product for attendance purpose, it is designed in such a way that anyone can easily setup this for their organization. We are using Face recognition for authentication. Mobile app is also very useful for field force executives. It allows us to easily capture all our on-field executives, which help seamless payroll processing based on this data.

Accuracy in identifying the face and fingerprint. Also Iris recognition. Mobile face recognition with multiple face detection.

This is the perfect software for anyone / company that has any information that needs to be kept confidential. Everything is up to date whats not to like. Hands down the best software for anything that you hold in high regard.

Face recognition works well with normal camera also. Very convenient and cost effective and value for money. Highly accurate. The system has face, finger and iris biometrics support.

Before we use traditional time and attendance I have to do lot of work to syncronize reports. But with Ncheck we do it with just few clicks.

We are using this software for different locations and this is just work fines so far. I wish there are some more features, but ok for small and medium size organizations.

We are using this software in our school for taking attendance of staff and found very useful. This software register all our staff's detail and biometrics information quickly and we immediately started taking the attendance of our staff. We have been able track the absentee of our staff and late comers. We have been able to take the attendance report on daily basis very quickly without any trouble.
- The Capterra logo is a service mark of Gartner, Inc. and/or its affiliates and is used herein with permission. All rights reserved.
- The SoftwareAdvice logo is a service mark of Gartner, Inc. and/or its affiliates, and is used herein with permission. All rights reserved.