ONLINE PAGE¶
NCheck visitor management Online page allows to book visit appointments before arriving to the organization. NCheck visitor management has provided default online page to book appointment. Customer can request custom online page and add as NCheck visitor management extension. Refer Use extension section for more details. Refer Start online appointment booking section for to start appointment booking.
Start online appointment booking¶
To access appointment booking, browse NCheck visitor management from following URLs.
Cloud

URL

Remarks

CustomerCode: A unique id receive after successful signup for the cloud.

On-premises

URL

Remarks

Server: Sever name or IP address, Port: Service port configured on the server. Default port is 8443.
Once the page loaded you will see NCheck visitor management home page as mentioned in Online appointment boking home page section.
Note
Before creating appointments, the schedules should be created first as mentioned in Schedules section. Note that to be visible the schedules in online page, Allows visitors to book online setting should be enabled for each schedule.
Online appointment boking home page¶
Quick start guide link

Link to open NCheck visitor management quick start gude

Documentation link

Link to open NCheck visitor management documentation

Contact link

Link to open NCheck visitor management contact information

About link

Link to open NCheck visitor management About page

Admin login button

Schedules list view

Schedule list view in the home page is showing 6 schedules from available as shown in Schedule list view section. Refer Schedules section form more details about manage schedules.

More button

Privacy link

Open NCheck visitor management privacy policy

Terms link

Open NCheck visitor management Terms link

Social media links

Links to open NCheck visitor management YouTube, Facebook, LinkedIn, and Tweeter social medias.
Create appointment¶
Once select appointment date, visitor allows to create appointment proving details as below.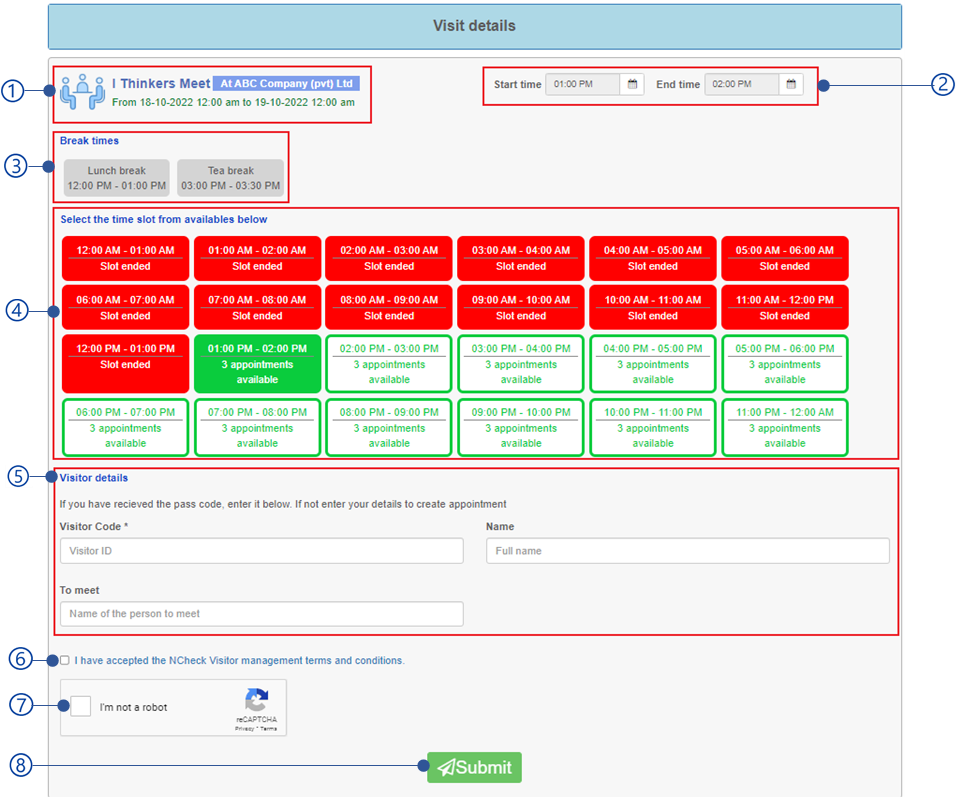 Start time and end time of the appointment

Select appointment start and end time for the appointment if Allow change appointment time setting has enabled as mentioned in Add/edit/clone schedule section. Default value of the appointment start and end time

If the Slot time is equal to 0, schedule start and end time.

If the slot time is greater than 0, Selected time slot start, and end time as mentioned in time slot view section.

Break time list view

Time slots view

Visitor form view

NCheck visitor management term and conditions

Accept terms and conditions.

Captcha verification

This field is available for online booking page of NCheck visitor management cloud.

Submit button

Submit details to create appointment. Once appointment created the appointment ticket will be appeared as shown in Figure 55 . Refer Ticket view section for more details.
Visitor form view¶
For visitor form of the online booking page contains following information.