NCheck Bio Attendance On-Premises
Offline biometric attendance control and management system can be used locally, as well as on your server.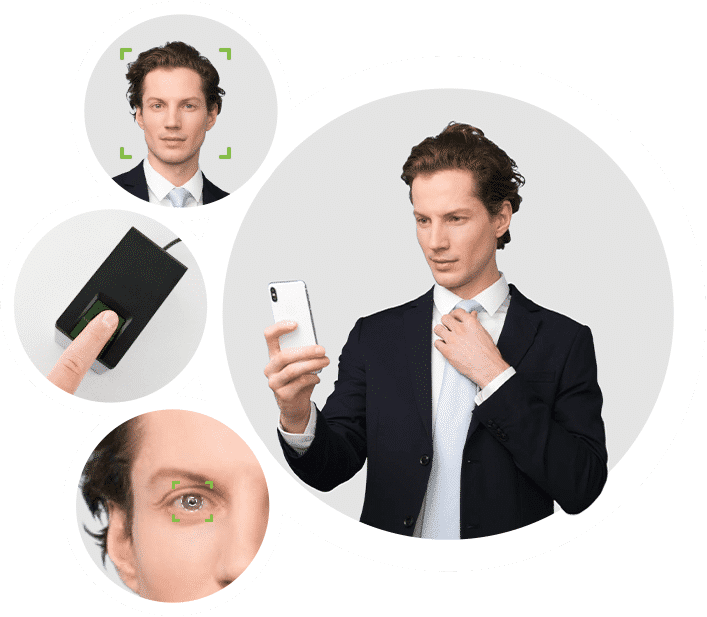 Powerful features
Unique features of our product take time and attendance software to the next level.

Identification with face mask
Our algorithms are able to recognize person even if he/she is wearing a face mask, what helps to ensure safe and hygienic identification.
Trending Feature

Contactless and hygienic attendance tracking
No physical contact is needed when person is recognized by face or iris.
Trending Feature

Attendance management from remote location
Working time of employees can be easily tracked and calculated even if person works remotely. Users can check-in and check-out simply with their mobile device, tablet or personal computer.
Trending Feature

Multiple Biometrics
3 biometric modalities are available - face, finger and iris.

Comprehensive reporting
Reports include summary on working hours, overtime, vacation, sick leave and other relevant information all of which can be exported to the payroll system.

Location tracking
System can track the geographical location of a person's place of check-in / check-out.

Liveness detection
Before starting facial recognition, the system can validate that the check-in / check-out is being attempted by a real person.

Real-time face detection
System can detect the face of a person passing by without requiring to stop and wait while the camera takes a picture.

Multiple face detection
System can detect and recognize faces of all the people seen in the picture.
Pricing
Each additional 100 users - 95€
---
Licence for 1 device - 95€
---
Free client applications for employees/users (Windows, Android and iOS operating systems) are available.
---
For more than 100 users or more than 10 devices please contact us.