NCheck Visitor Management is specifically designed to handle visitor any organization or institute using biometric identification. It provides necessary functions for managing different visitors such as customers, guests, attendees, suppliers, passengers and many more.
The benefits of the NCheck Visitor Management System
For the institution
Security - Visitor will be authenticated before entering the premises, hence ensure no unauthorized access.
Appointment booking with no hassle - System will automatically manage slots
Increase the efficiency of attendance monitoring - The use of passive recognition and identification using surveillance cameras enables large work forces to be monitored with ease
For the visitor
Convenient - easy to make appointments from anywhere, anytime
Alerts - System will remind you about the appointments, in case you forgot about it.
Contact less check-in- Multi-modality scanning offers a more hygienic solution to get access to premises
How does the NCheck Visitor Management System work?
Powerful features
Unique features of our product take visitor management software to the next level.
Applications and Industries
Our visitor management system can be successfully used by various businesses and institutions.
Cloud
Monthly Subscription
Subscription price depends on appointments per day
Free subscription supports up to 5 appointments per day
Support NCheck Visitor client apps (Windows/Android)
No need to worry about server installation and no maintenance needed.
On-premise
One time purchase
Need a PC to install server software
No limitation on daily appointment count
Customer has the freedom to configure the server as they wish
Select a PC or a device meeting minimum requirements
Make sure that the internet connectivity is available. Trial license connects to our licensing server to activate and validate the trial license.
Note: If your trial is not activated in above conditions, you can request trial license code from our
support email.
You can upgrade your trial usage to production by purchasing a license and activate it with License Manager.
Why NCheck Visitor management?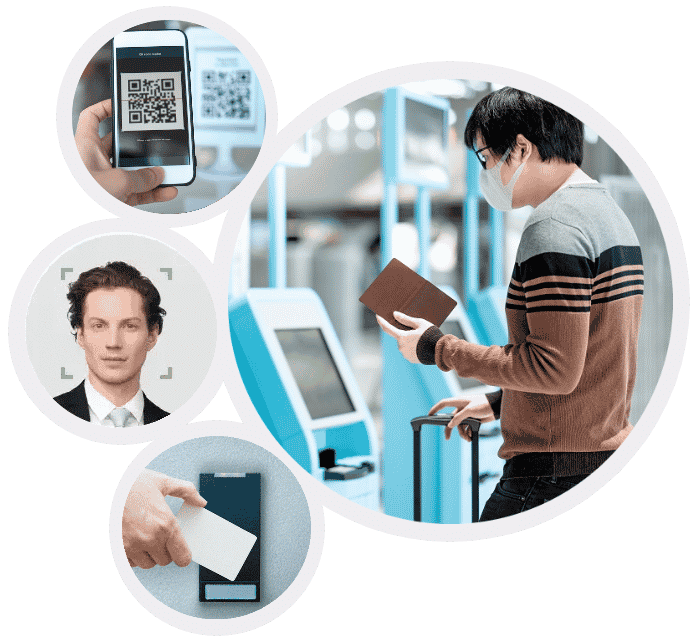 NCheck Visitor management is a ready-to-use visitor management system that support 3 different biometric modalities – face, finger, and iris. The product was released in 2022 by Neurotechnology, a company with almost 30 years of experience in the fields of artificial intelligence and biometrics. That is why our algorithms are among the best in the market. All the modalities can be used alone or combined to get extremely high accuracy.
For those willing to track visitors for an organization. Our biometric visitor control software can be successfully applied in any organization or business that requires attendance management and access control. NCheck Visitor management system can be used in different scenarios including offices, schools and universities, hotels, hospitals, customer service centers and tourism related institutions.
Recording all visitors via a system ensures security of the premises, provide efficient service for visitors and reduce time spending for visitor related operations. Pre-appointments reduce time waste and improve overall experience of visitor.
Looks like NCheck Visitor management is a suitable solution for you? Try it for free!
NCheck bio attendance can revolutionize your employee attendance software for its features, very easy to use and update and to teach to employees. It needs a little improvement on the manual, color on the interface and needs more customizable menus when programming attendance.

Ncheck Biometric Time & attendance solution is excellent to support on windows & android both platforms. Single solution for all biometric based needs. Need to optimize on the cost part as per required biometric for T&A.

Quite good software in terms of biometrics attendance. We tried different attendance terminal for our attendance purpose but most of those are not working properly. Sometimes does not recognize ur fingerprints properly. So we decided to try other vendor.

We are using this product for attendance purpose, it is designed in such a way that anyone can easily setup this for their organization. We are using Face recognition for authentication. Mobile app is also very useful for field force executives. It allows us to easily capture all our on-field executives, which help seamless payroll processing based on this data.

Accuracy in identifying the face and fingerprint. Also Iris recognition. Mobile face recognition with multiple face detection.

This is the perfect software for anyone / company that has any information that needs to be kept confidential. Everything is up to date whats not to like. Hands down the best software for anything that you hold in high regard.

Face recognition works well with normal camera also. Very convenient and cost effective and value for money. Highly accurate. The system has face, finger and iris biometrics support.

Before we use traditional time and attendance I have to do lot of work to syncronize reports. But with Ncheck we do it with just few clicks.

We are using this software for different locations and this is just work fines so far. I wish there are some more features, but ok for small and medium size organizations.

We are using this software in our school for taking attendance of staff and found very useful. This software register all our staff's detail and biometrics information quickly and we immediately started taking the attendance of our staff. We have been able track the absentee of our staff and late comers. We have been able to take the attendance report on daily basis very quickly without any trouble.
- The Capterra logo is a service mark of Gartner, Inc. and/or its affiliates and is used herein with permission. All rights reserved.
- The SoftwareAdvice logo is a service mark of Gartner, Inc. and/or its affiliates, and is used herein with permission. All rights reserved.