Clocking In Machines: Is it time to move on?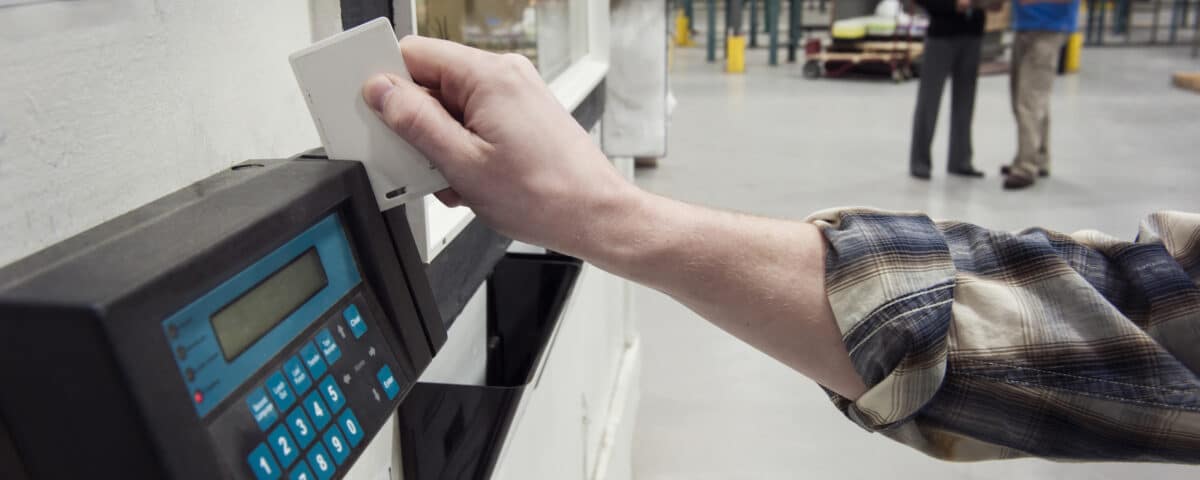 Clocking in machines have been a common sight in workplaces for generations across the world. 
These mechanical devices served as the primary means of attendance tracking, ensuring employees have their work hours recorded accurately. 
However, with the development of new technologies and the demands of the ever-changing workplace requiring new solutions, clocking in machines have started to be phased out and replaced by biometric attendance systems instead.
Traditional clocking in machines
Clocking in machines first emerged at the end of the 19th century, when Willard L. Bundy invented the first time clock system, which explains why the machines are sometimes referred to as Bundy machines. 
With these devices, employees would insert their card into the time clock device, which would then be stamped (or punched) with the time of entry and exit. 
This time data was used to calculate the hours worked by the employee, making it an essential tool for payroll and attendance management for businesses throughout the last century. 
One of the main benefits of a clocking in machine over a more manual approach such as a register is they were harder to fiddle with the time that would be stamped, meaning it helped to cut down on timesheet fraud.
Limitations of clocking in machines
That being said, there are still many limitations of clocking in machines that make them less practical for today's fast-paced and technologically-driven workplaces.
Buddy punching
Buddy punching occurs when an employee punches in another employee's timecard in their absence. 
With clocking in machines, employees could have their colleague clock in on their behalf if they had their fob or card, leading to inaccurate attendance records and payroll discrepancies. 
Requirement for physical cards and fobs
For clocking in machines to work, physical items such as cards or fobs were needed and often needed to be unique to the individual employee. 
This added an extra burden and cost to the business, both for the initial provision of cards or fobs, and also for the replacement items when these were lost or stolen. 
When the cards or fobs were lost, this would require manual intervention for the timekeeping until the employee could be reunited with a card or fob, often defeating the purpose of having an automated system in the first place.
Physical locations only
Traditional clocking in machines are a suitable solution for small businesses with all the staff working onsite, such as factories, but for many modern workforces this is simply not the case. 
Working from home has grown in popularity since the pandemic, and time attendance systems that require the physical presence of the employees are becoming increasingly redundant.
The rise of biometric attendance systems
Biometric solutions such as the NCheck biometric attendance system have become a viable and desirable alternative to the traditional clocking in machines. 
These attendance systems use unique biological features such as fingerprint, facial or iris recognition to verify the identity of an individual when they are clocking in and out of work. 
Some of the key reasons for the popularity of these biometric systems include:
Enhanced security
Biometric systems provide a higher level of security compared to punch cards or pin-based solutions. 
This is because biometrics use data unique to the individual employee, making it nearly impossible to impersonate an employee, especially systems that use liveness detection to ensure that photographs can not be used to fool the biometric system. 
This unique biometric information also helps to stamp out buddy punching.
Streamlined real-time processing of attendance data
The NCheck system automates the collection of clocking in and clocking out information, helping to reduce the administrative burden on the payroll department. 
This automated process also helps to minimize errors in the attendance tracking, ensuring employees are paid accurately. 
This attendance data is also easily integrated into other HR and payroll systems, helping workforce management.
Scalable solution
Biometric attendance systems are highly scalable solutions, with providers such as NCheck able to register the attendance of multiple employees at the same time, saving time for all involved. 
Contactless registration
Even in the post-pandemic world, contactless attendance systems are often more popular compared to the solutions that require multiple touchpoints. 
Certain industries, such as medical facilities require contactless registration to ensure all hygiene and safety standards are adhered to. 
The transition from traditional clocking in machines to the modern biometric attendance systems reflect the natural evolution of workplace technology. 
Clocking in moving forward
Biometric systems offer improved security, efficiency and data accuracy compared to the historic clocking in machine solutions. 
As organizations across the world are looking to optimize their workforce management processes, biometric attendance systems such as NCheck have become an indispensable tool for enhancing productivity, reducing timesheet fraud and ensuring the highest accuracy of payroll processing possible. 
Whilst biometric systems are currently popular, they also represent the future of time tracking with many evolutions and adaptations coming in the horizon as the technology further improves and evolves. 
This is highlighted through the advancement in biometric visitor management systems. 
Get started with the NCheck biometric attendance system to benefit from the accurate and efficient solution for registration, time management and attendance.
You can even try the our biometric system for free!